HOW
DOES IT WORK?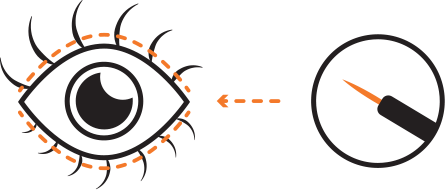 Simple and safe

application
The precise brush makes application both quick and simple. Make sure that the skin is free of make-up and eye cream. Apply the product exactly where the eyelashes meet the skin, just as you would do with an eyeliner. After a few seconds, the serum is absorbed as the substances start strengthening your follicles.
The serum components penetrate the skin, reaching your lash roots to start working from the inside. Nourished hair follicles produce strong, thick, and incredibly long lashes within a short period. What's more, Nanolash makes lashes appear darker, and it coats them with a protective layer preventing lash loss and brittleness. This method of lash stimulation is proven to be completely safe and does not cause allergic reactions or skin irritation.

EFFECTIVENESS
PROVEN BY INDEPENDENT
RESEARCH


non-irritating

and safe


ingredients
In our hands lies the health of women around the world. While developing Nanolash, we made sure that every ingredient is safe and causes neither allergic reaction nor irritation. We focused on natural ingredients that produce amazing results and affect the structure of eyelashes positively.
The formula of Nanolash Serum was created in the most advanced laboratories and was subjected to detailed analysis. We realise that beauty must go hand in hand with health, which is our motto. The formula has been developed and proven by independent institutes to ensure that the product we offer is fully safe, reliable and effective.